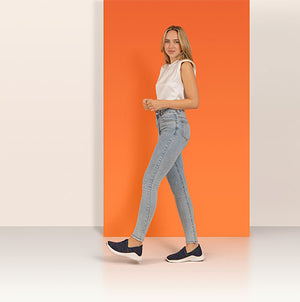 Your Journey to
Pain Relief
AETREX SIGNATURE ARCH SUPPORT
Our feet are designed to manage impact from walking or running and to help us remain balanced. The contour, position and height of the Aetrex arch support aligns anatomically in the proper place to help support our bodies.
OUR BELIEF
ARCH SUPPORT
Support, coupled with memory foam and adjustability features, makes Aetrex footwear perfect for those who experience pain or spend long days on their feet! Our arch support and comfort features are backed by decades of experience in the medical field. Aetrex Arch Support stabilizes the foundation of your body, helping to make each step less strenuous and more balanced.
WHAT OUR CUSTOMERS HAVE TO SAY
★★★★★

Love the shoes and the service! Have their sneakers, Berries and a pair of sandals. Love them all. Also have a set of insoles to wear inside other footwear.

Julia S.
★★★★★

I have to wear orthotics in my shoes, and cannot wear sandals. Until now. I can wear these sandals all day without pain because of the good support.

Sandy K.
★★★★★

Aetrex are the only shoes I wear. I have planters fascitis and back problems. I can walk, shop and work with absolutely no issues. I highly recommend their shoes.

Marie F.
★★★★★

Great orthotic for my athletic shoes. I am flat footed and have heel pain and this helps with both. Will definitely buy again.

Jean H.
★★★★★

I would not be able to walk without these wonderful supports. My feet were in so much pain before adding this perfect padding. I felt like I was walking on a cloud.

Victoria W.
Aetrex Technology
Enhance Your Store
Our scanners capture accurate, unmatched data about your customers' feet to help find the right shoes or orthotics on the first try.
Learn More